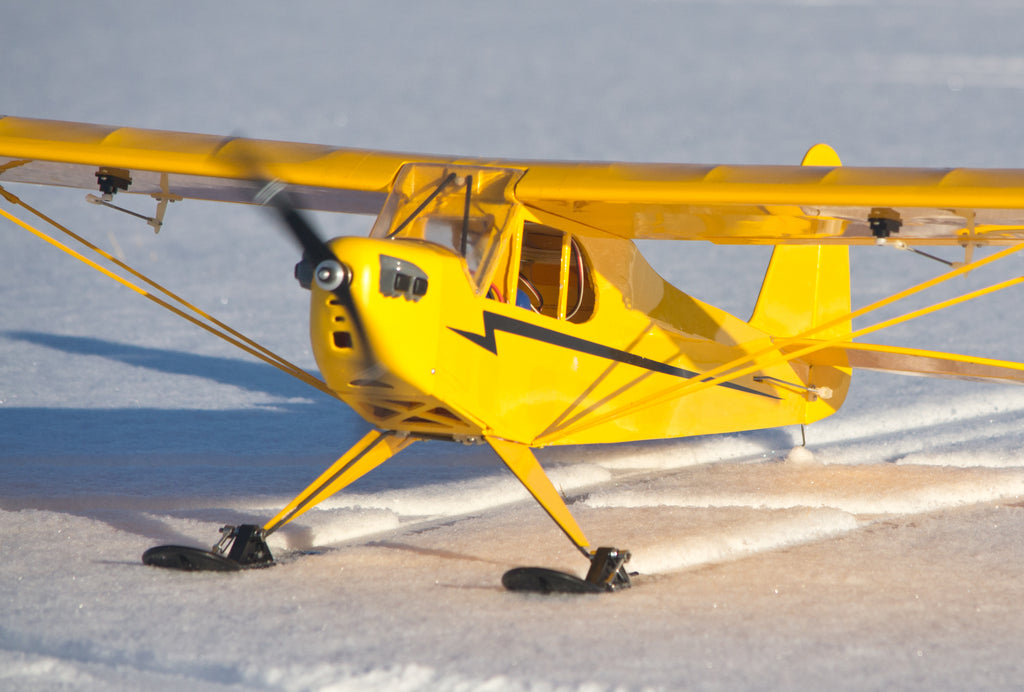 For many of us, cool temperatures signal the beginning of building season. But that does not mean you have to stop flying entirely. In fact, flying RC airplanes off of snow is a lot of fun…and a great cure for cabin fever! Our Snowbird Snow Skis can be mounted on a wide range of sport models in a matter of minutes. You can keep flying your favorite airplanes all year long!
Generally speaking, our skis work well with models from 20 ounces to 8 pounds. A pair of Snowbird Main Skis (part number 825) is all you need for winter flying with a taildragger model.  Do you prefer airplanes with tricycle landing gear? No problem. Just add a Nose Ski (part number 826)! We also offer Park Flyer Skis (part number 830) for smaller models (up to about 30 ounces).
Snowbird Skis are made with super-tough HDPE plastic that will last season after season. Park Flyer Skis are vacuformed from ABS plastic to keep things light. All skis include the necessary mounting hardware. Instructions are included as well. But we think you might prefer to watch our 'Du-Bro 101' video about skis instead.
Sure, building model airplanes is fun. But do not stay in your workshop all winter long. Get some Snowbird Skis and go outside to play!